"Liberty And Prosperity"
―State Motto
New Jersey, The Garden State, was the 3rd state to be admitted into the United States of America on December 18th 1787. It is bordered to the north and east by New York, to the west by Pennsylvania, and to the southwest by Delaware.
Geographical Regions
The Chemical Coast
The Chemical Coast is a region along the shores of Newark Bay, the Arthur Kill, and Raritan Bay. During Pre-War times, this stretch of coastline was heavily polluted, due to a concentration of factories and chemical plants. Post-War fallout and radiation has only made the environmental issues in the water and nearby coastline worse.
Sites & Settlements
Active Groups & Organizations
The Jersey Shore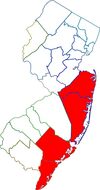 A region of the Jersey coast reaching from Sandy Hook in the north to Cape May, over a hundred miles to the south. Seasonal resorts and recreational towns developed all down the Atlantic shore during Pre-War days, the most famous being Atlantic City. Since the Great War, the area has become home to all kinds of raiders, pirates, gangsters, and individuals of ill repute.
Sites & Settlements
Active Groups & Organizations
The Pine Barrens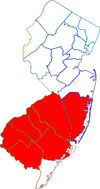 A large, heavily forested area stretching much of the southern reaches of the state. The Pine Barrens were largely unspoiled and undisturbed during Pre-War days and very little has changed in the Post-War world. The area is home carnivorous plants, rural, backwoods residents known as "
Pineys
", the infamous Jersey Devil, and other kinds of dangers.
Sites & Settlements
Active Groups & Organizations
The Skylands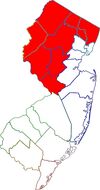 The mountainous and hilly region running in a northeast-southwest axis in the north. The region starts as low, rolling piedmont hills roughly 200 feet above sea level, and rises to almost 2,000 feet above sea level as the Kittatinny and Shawangunk Mountains rise from the ground.
Sites & Settlements
Active Groups & Organizations
Notes